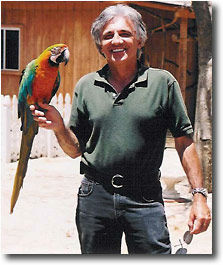 David McMillan opened Worldwide Movie Animals, LLC in 1989 with only a handful of animals. We now own dozens of animals and have arrangements with other animal companies to use their animals to ensure the right animal is used for the job. The selected productions credits for which Worldwide Movie Animals, LLC provided animals demonstrates our ability to meet any production requirements.
Learn more about David and our trainers.
The Human Element – Owner David McMillan
For more than 30 years David J. McMillan has trained and performed with exotic and domestic animals. Born and raised in Ohio, and a graduate of Ohio University, David's career began shortly after he left the Army in 1972. While traveling in California, David ran out of money and answered a "help-wanted" advertisement. Marine World/Africa USA, then located in Redwood City, was looking for an elephant walker to help with their elephant rides. Six months later, David was training elephants and performing in shows. He was hooked.
David left Marine World/Africa USA after a few years and, subsequently in 1975, David began working at Enchanted Village theme park in Buena Park, CA. There, David handled and trained a variety of other animal species, including elephants, chimpanzees, lions, tigers, bears, and camels. David performed with the animals in daily live shows and began doing motion picture work.
A couple of years later, David began working as a freelance trainer. In this capacity he assisted the Brookfield Zoo in Illinois with creating a performance demonstration of how elephants are used in the Asian lumber industry and training elephants and their handlers to perform the demonstration. At this time, he also began working with various animal companies that trained and provided animals in the motion picture and television industries. Through the years, David developed and polished his training skills, broadening his abilities to include the handling of a wide range of animals from snakes, spiders, dogs and cats to kangaroos, emus, alligators and giraffes.
In 1989, one of David's long time aspirations came true; he created Worldwide Movie Animals, LLC.
David takes great pride in his animals and making sure that they are happy, healthy, and well cared for. Worldwide Movie Animals, LLC also works closely with humane organizations, including the American Humane Association, the only national organization with the authority to oversee the welfare of animals used in motion picture and television.
Please feel free to contact David at Worldwide Movie Animals, LLC to ask any questions about his career, qualifications, or his thoughts on a project.
Our Trainers
Our highly motivated, experienced professionals will  either obtain  the desired scripted  animal  action, or, when appropriate or necessary, offer suggestions to make the performance even better.
The trainers must first graduate from the exotic animal training and management program at Moorpark College in Moorpark, California. There they learn important fundamentals which make them a more rounded animal training professional. Upon graduation, their apprenticeship involves years of "understudy" with existing pros both on and off set, making them into seasoned veterans that can handle the myriad of environments and difficulties presented daily in this exciting and challenging industry.